home
// store // text files // multimedia // discography // a to zed // random // links
albums
// books // DVD // software // miscellaneous // video
---
This is the Spinal Tap Zine: An A to Zed Guide to One of England's Loudest Bands
by Chip Rowe (2011, ISBN 9780983736837, $2.99)
First published in 1995 as a paper fanzine, the fifth update and revision of this comprehensive guide, compiled by the creator of this site, is available for the Kindle, the Nook, the iPhone or at Kobo for a variety of platforms. It contains more than 550 entries about the international recording stars Spinal Tap, including favorites such as Dubly, Stonehenge and Zucchini and obscurities such as Butt Casts, Goat Boy and Meconium. The 2002 version is available can be viewed online.
---
Back From the Dead
(The Label Industry, 2009, includes one-hour DVD and pop-up diorama package that unveils three 12-inch action figures cutouts with a proportionally sized Stonehenge)
Tonight I'm Gonna Rock You Tonight; Back From The Dead; (Funky) Sex Farm; Rock 'n' Roll Creation; Jazz Oddyssey I; Gimme Some Money; Rock 'n' Roll Nightmare; Heavy Duty (featuring Keith Emerson); America; Jazz Oddyssey II; (Listen to the) Flower People (Reggae Stylee); Hell Hole; Big Bottom; Celtic Blues; Jazz Oddyssey III; Warmer Than Hell; Stonehenge; Short and Sweet (featuring John Mayer, Steve Vai, Phil Collen); Cups and Cakes; Bonus: (Listen to the) Flower People (2009). You can buy or download the album at Amazon or download it at iTunes. The bonus track appears only on the Amazon download. iTunes also has a track by track video commentary by the band. Here is a video that explains how to unfold the diorama.
---

Spinal Tap: The Original Soundtrack Recording from the Motion Picture This Is Spinal Tap
(Polydor, 1984, #POL-817846; Uni/Polydor, remastered, 2000)
Hell Hole, Tonight I'm Gonna Rock You Tonight, Heavy Duty, Rock 'N Roll Creation, America, Cups and Cakes, Big Bottom, Sex Farm, Stonehenge, Gimme Some Money, (Listen To The) Flower People. The remastered soundtrack comes with expanded liner notes (including lyrics) and the single and "scratch" mixes of Christmas With The Devil. You can buy or download the album at Amazon or iTunes.
---
Break Like the Wind
(Dead Faith/MCA, 1992, #MCAP10514; MCA, remastered, 2000)
Bitch School, The Majesty of Rock, Diva Fever, Just Begin Again, Cash On Delivery, The Sun Never Sweats, Rainy Day Sun, Break Like the Wind, Stinkin' Up the Great Outdoors, Springtime, Clam Caravan, Christmas With the Devil, Now Leaving on Track 13, All The Way Home. You can buy or download the album at Amazon, or download it at iTunes.

---
Smalls Change
(BMG, 2018)
Derek's first solo album after an abandoned effort in 1975. Songs: Openture, Rock and Roll Transplant, Butt Call, Smalls Change, Memo to Willie, It Don't Get Old, Complete Faith, Faith No More, Gimme Some (More) Money, MRI, Hell Toupee, Gummin' the Gash, She Puts the Bitch in Obituary, When Men Did Rock. You can buy or download the album at Amazon or download it at iTunes.

---
This is Spinal Tap, Special Edition
(MGM, 2000; list $29.98), 5.1 Dolby digital stereo, encoded, letterboxed, DVD, English / Spanish / French
This enhanced version of TIST includes fresh commentary by the band and a new digital transfer, plus 100 minutes of features such as more than one hour of deleted scenes taken from 30 hours of original negative, a new interview called "Catching Up with Marty DiBergi," the band's February 1984 appearance on the Joe Franklin Show, the original theatrical trailer, four music videos (Hell Hole, Listen to the Flower People, Big Bottom and Gimme Some Money) and six TV spots. You can buy the DVD at Amazon or stream it there or at iTunes.
---
This is Spinal Tap, Criterion Edition
(Criterion Collection, 1994), digital stereo, encoded, letterboxed, DVD and laserdisc
The Criterion edition DVD and laserdisc includes 80 minutes of outtakes (the original documentary runs 82 minutes) consisting of 32 cutting room floor tracks, as well as the original 20-minute demo reel that DiBergi used to pitch the film to Embassy Pictures. The original film also is here, with commentary from DiBergi, producer Karen Murphy, two film editors and the principal band members. For more info, read an interview with the editorial coordinator and producer. Both the laserdisc and DVD are out of print, but you can find copies at Amazon and eBay.
---

Break Like the Wind—The Videos
(UNI Distribution, 1992), 15 minutes
This video includes Bitch School (censored by MTV and uncensored, also available on the Special Edition VHS) and The Majesty of Rock (not available anywhere else), plus an interview. You can buy the video secondhand at Amazon. You can also download Bitch School and The Majesty of Rock on iTunes or purchase the audio CDs or vinyl of Bitch School at Amazon or The Majesty of Rock at Amazon.

---
The Return of Spinal Tap
(MPI Home Video, October 1992), 110 minutes

Footage of the final performance of Tap's 1992 tour, which took place in London on July 7, 1992. The footage is interspersed with interviews in which celebrities discuss the influence of Tap on their lives. There also are visits to spots in England that played a role in the band's formation. You can buy the 2003 re-release on DVD at Amazon, but be forewarned that some fans have reported the songs are in mono, some of the song titles are listed incorrectly and there is no studio or catalog number listed. The 1992 version is also available at Amazon.
---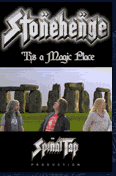 Stonehenge: 'Tis a Magical Place
(Shorts by iTunes, 2009, seven minutes)
In this short film, offered on iTunes when Back From the Dead was released, the boys visit the inspirational monument in England. Unfortunately it is no longer available.

---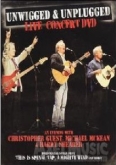 Unwigged and Unplugged: The Concert Tour
(Courgette Records, 2009, 130 minutes)
The actors and performers Michael McKean, Christopher Guest and Harry Shearer cover many of Tap's best songs in this acoustic set. Available at Amazon.

---
This is Spinal Tap: The Official Companion
by Karl French (2000, Bloomsbury, $19.95 ISBN 1582341257 or £16.99 ISBN 074754218X) This guide contains a transcript of the film, song lyrics, the discography and timeline you'll find here on the Tap fan site, an introduction by someone named Michael McKean, 24 pages of color photos (including a great one of Marty DiBergi testing the metal detector on Derek at the airport) and an A to Zed guide that has strange entries such as Reiner, Rob. You can buy it at Amazon.
---
Cultographies: This Is Spinal Tap
by Ethan De Seife (2007, Wallflower Press, £10.00 ISBN 190567449X)
Ethan De Seife, whose writings on Tap first appeared on this site, offers a sustained critical appraisal of the film's success as cult cinema. In the introduction Ethan recalls how he first saw the film with his mother in Harrison, New York in 1984, with just four other people in the theater. "I remember a general sense of confusion when it was over," he writes. He recounts the production, promotion and initial reception to the film and the audience and critical reaction before diving into a stellar analysis of its popular appeal. You can buy it at Amazon.
---
Spinal Tap: The Big Black Book
by Wallace Fairfax (2017, Applause Books, ISBN 978-1495089404)
According to the publisher, this book "will bring to the public, for the very first time, the story of the band in words, pictures, and removable facsimile memorabilia." However, the band comments: "This book was done without any contact with or authority of the band and is filled with untruths. The author never toured with the band, never even met them. The interview(s) are fakes as is the supposed 'merchandise.' Purports to be a fan but never had the courtesy to speak to his 'heroes.' The author is just another person making money from exploiting the band and the film even using a fake name."
---
Rock n' Roll Biographies: Spinal Tap
by Jay Allen Sanford, Nestor Tahtiado, Bill Brent (2018, Acme Ink)
As part of Acme Ink's Rock n' Roll Biographies series, Jay Allen Sanford wrote, Nestor Tahtiado illustrated and Bill Brent did the cover art for the mostly true-to-life story of Tap as a comic book.

---
Spinal Tap Misc.
At the band's request, we have removed links to unauthorized merchandise. For authorized merch, see the band's official site, which has T-shirts, pajamas, bandanas, beanies, caps and postcards.
For sheet music download and "guitar guru" lesson of Tonight I'm Gonna Rock You (Tonight), visit MusicNotes.
Sideshow Toy's Spinal Tap action figures can be found on eBay.